DOT Helps States, Local Communities Improve Transportation Resilience
Secretary Anthony Foxx
August 11, 2015
03:28 PM EDT
Ed. note: This is cross-posted on the U.S. Department of Transportation's blog. See the original post here.
Under the Obama administration, the U.S. Department of Transportation has been working hard to support communities across the country as they adapt the planning, development, and management of their transportation assets for greater resilience in the face of climate change. And earlier today, I kicked off a workshop to share tools and resources to help states, transit agencies, and local communities do just that.
This was an important workshop — more than 50 people attended in person with another 400 joining us online — and it comes at an important time in the history of transportation in the U.S.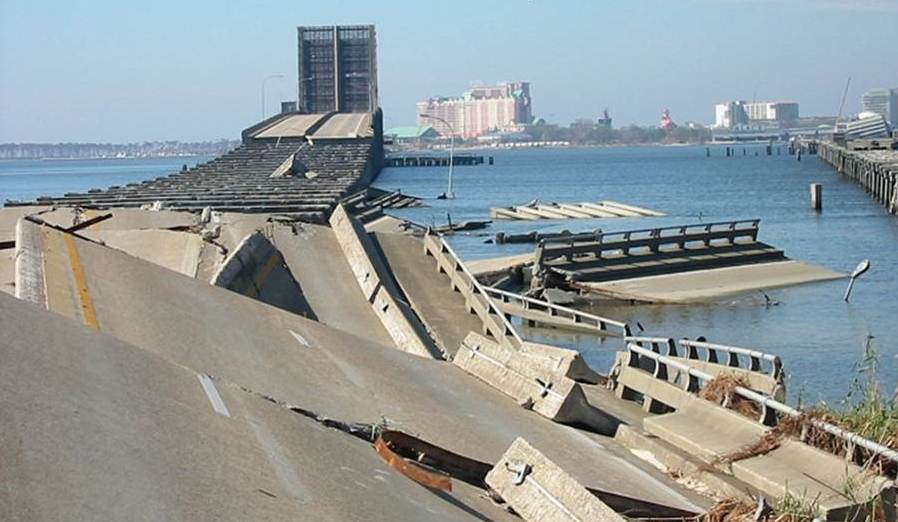 U.S. Highway 90 bridge over Biloxi Bay after Hurricane Katrina in 2005.
Continued uncertainty and underinvestment at the federal level have paralyzed our transportation system. We know of at least seven states pulling back valuable projects because of federal funding uncertainty.
Yet we also know we're going to continue growing as a country. Our recent Beyond Traffic report anticipates that we're going to have 70 million more people in our country over the next 30 years. So we'll need to find the resolve to maintain our current system — and strengthen it — while adding the capacity we'll need.
Why do we need to strengthen our current system? Because Beyond Traffic also tells us that another threat coming around the corner is climate change.
Flooding damages bridge in Oklahoma; photo courtesy @OKDOT.
Last year, we experienced our warmest year on record. And the data show this trend will continue — so that by 2050 our temperature will have risen another 2.5 degrees Fahrenheit. In some areas of the country, sea level is projected to rise a full foot by 2045. Both droughts and floods are expected to become more frequent. We might even start to experience major flood events more frequently than in the past.
And frankly, we've already seen a preview. I'm reminded of what Hurricane Sandy did to our transportation systems in the Mid-Atlantic and in the Northeast. And this month marks the tenth anniversary of Hurricane Katrina, whose effects are still being felt even a decade later.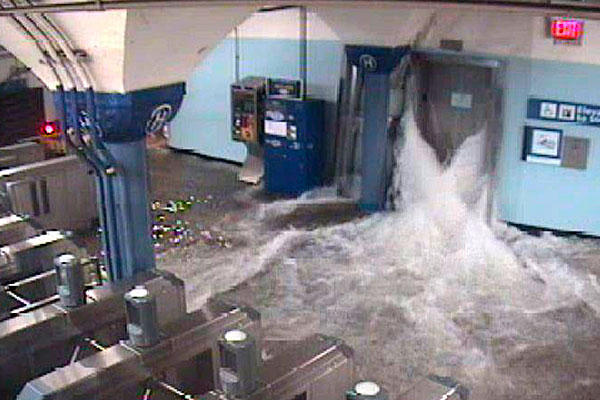 Superstorm Sandy flooding damage at transit station in New Jersey.
As we discussed today, the Administration and this Department are taking important steps to respond to these challenges:
Reducing the carbon footprint of our transportation system — it's good for the economy and puts money back in consumers' wallets. We've established fuel standards for cars and light trucks that will lead to a near doubling of fuel economy by 2025 compared to 2010. We've set the first-ever fuel efficiency standards for medium and heavy-duty vehicles for model years 2014-2018, leading to more sales. And we've recently proposed a second round of those standards that could lower CO2 emissions by approximately 1 billion metric tons, cut fuel costs by about $170 billion, and reduce oil consumption by up to 1.8 billion barrels over the lifetime of the vehicles sold under the program.
Supporting increased investment in transit and intercity passenger rail.
Launching a national program to make environmentally friendly transportation choices like biking and walking safer and more accessible. We've funded projects to develop alternative fuels for aviation and maritime and put more hybrid buses on the streets. And, just in the past month, we've announced that we're allowing DOT employees to charge their electric vehicles in our parking lot.
But the reality is that even with these and other efforts to slow climate change, we still need to protect our transportation systems from what lies ahead. If sea level continues to rise as projected, miles of coastal highways, railroads, and airports may soon become vulnerable to inundation and storm waves. Meanwhile, higher temperatures could cause asphalt to wear out more quickly and rails to buckle more often.
So there's more than a little urgency behind today's conversation about how to make our infrastructure more resilient.
Annotated photo showing post-Katrina surge damage.
Now, as we also discussed today, we've been moving the dial since Sandy, both through investing in resiliency projects across the country and by developing tools and approaches that can be implemented at scale. We've awarded $3.59 billion in grants to 40 transit resiliency projects, and the Federal Transit Administration and the Federal Highway Administration have completed demonstration projects to identify vulnerabilities in our roads and transit systems and to analyze adaptation options.
And just this year, we released our study of the Mobile, Alabama region, called the "Gulf Coast Phase 2" report. This study helped us develop risk management tools that can help states, transit agencies, and communities across the country incorporate resiliency into the strategies they have for planning, designing, and managing assets. As the team explained today, the great thing about these tools is that they are available to anyone! And they can help stakeholders do more with data, to see more clearly where vulnerabilities are and prioritize their work plans.
So, I hope, coming out of today, that folks across the country take what they've learned back home, so that we can work together to bring best practices to scale.
But I also know that they'll be able to apply these tools much more effectively, and build more resilient transportation systems if they have long term funding certainty. Congress recently passed its 34th short-term funding extension, but that doesn't take us very far. The Senate has advanced a six-year bill, which is a start. But we need to keep pushing for a long-term bill that puts investments in line with our country's actual needs.
Click here to learn more about the FHWA Risk Management Tools shared during today's workshop.